< back
5 pro hacks for cooking mushrooms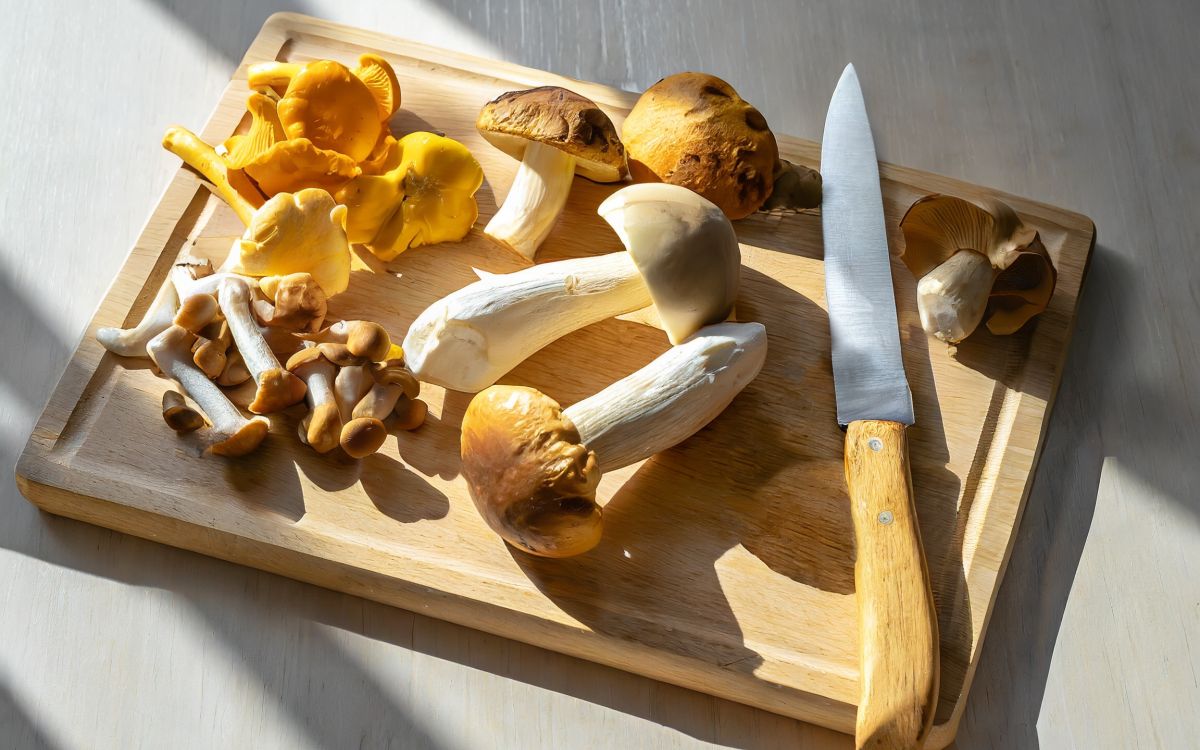 Hats off! With their wonderful aroma and versatile uses, wild and cultivated mushrooms are also packed with nutrients. But what's the best way to prepare and cook chanterelles, porcini mushrooms etc.? From storing to savouring – our chef Ivana can share a few tricks.
In autumn, mushroom season is in full swing. Apart from cultivated varieties such as button mushrooms and oyster mushrooms which are available all year round, fresh porcini mushrooms and chanterelles add an extra dimension to our culinary creativity. Neither of these wild mushroom varieties can be cultivated and thus can only be enjoyed seasonally.
So, make sure to include them on your weekly shopping list, as all edible mushrooms offer something special. They are full of fibre and contain various vitamins such as B3 and D, along with proteins and folic acid. Since they are mostly composed of water, they are low in calories. Due to their high protein content, they are a true force of nature in any vegetarian or vegan diet.
"Roasted, braised, grilled or baked – mushrooms are so versatile! Cultivated varieties such as button mushrooms and king oyster mushrooms also taste great raw: thinly sliced in a salad or marinated in vinegar, oil, spices, and herbs, for example. Large mushrooms can be hollowed out, filled and gratinated in the oven. Oyster mushrooms lend themselves perfectly to breading."
Ivana, professional chef & recipe developer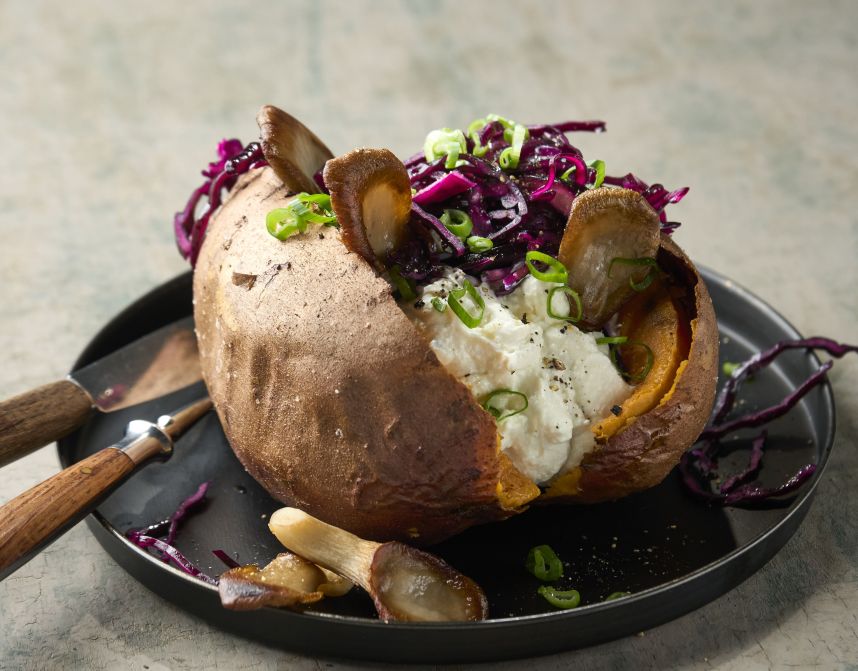 Our foodfittery highlights for varied mushroom-based meal plan:
How to know when mushrooms are fresh
No matter the variety, whether from the farmers' market or supermarket, mushrooms should be dry and neither slimy nor greasy. Fresh mushrooms have a mild, usually pleasantly earthy aroma and should be plump. There should be no visible dry spots or wrinkles.
How best to store mushrooms
Cool and airy. Avoid plastic bags or containers. After purchase, remove any airtight packaging and leave to dry on kitchen paper for up to 15 minutes. They can then be wrapped in paper and stored in the vegetable compartment of the fridge until use. Mushrooms should basically be consumed pretty quickly. They can also be easily dried (ideal for sauces) and frozen, meaning they can be kept for up to six months. If freezing, it is best to slice the mushrooms beforehand and fry or blanch them to prevent any bitter taste after thawing.
How to clean mushrooms
Not with water! Mushrooms absorb liquids like a sponge. Use a brush, a soft mushroom brush or a cotton cloth to gently wipe them clean. Finally, simply cut off the ends of the stems with a kitchen knife.
How to pan-cook mushrooms like a pro
It's best to use a larger pan, as mushrooms like a bit of space. If you fry them directly in fat, the water they release cannot evaporate properly and will remain in the pan, banishing those delicious roasted flavours. Therefore, mushrooms for soups, sauces and sautéed dishes should first be fried briefly without oil at a high temperature in an uncovered pan to allow the water to evaporate and prevent the mushrooms from getting soggy. Only once the liquid has evaporated should onions be added with a little oil.
Can mushrooms be reheated?
Good news! The myth that mushroom dishes are not suitable as leftovers comes from way back when reliable cooling technologies were lacking. If you take a few simple things into consideration, mushrooms can be reheated a day later. Leave a freshly cooked dish to cool down briefly and then place immediately in the fridge. To reheat, it's best to use a pot with high heat (at least 70°C) rather than the microwave, which may reheat unevenly. However, you should refrain from repeated reheating as the protein in the mushrooms will be broken down and converted into substances that could lead to intolerances.