< back
Ingredient Spotlight: 10 things about Pumpkin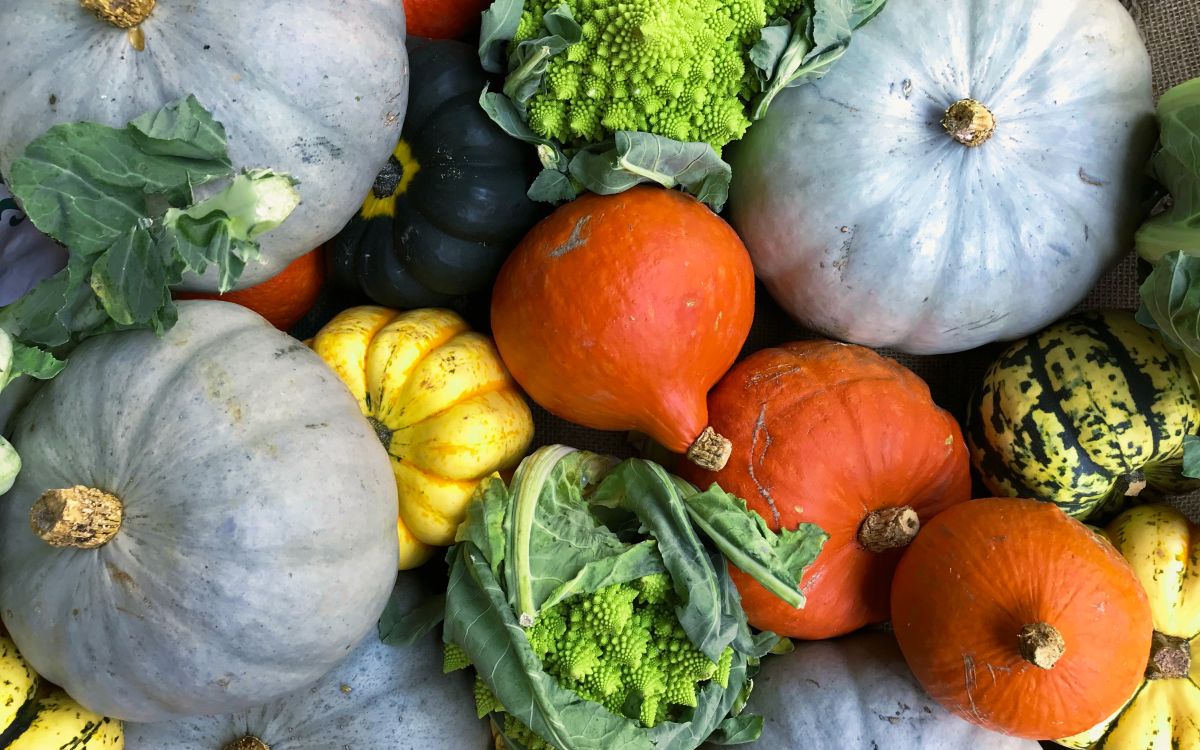 Pumpkin is a healthy, versatile fruit that's loaded with a variety of nutrients, including fibre, vitamins, minerals, and antioxidants. Here you will not only discover the health-promoting benefits this superfood has to offer, but also find ten interesting and practical tips about this seasonal-star.
Pumpkin is associated with autumn and winter like hardly anything else. Maybe this is due to its orange colour which reflects the trees glowing in many colours. Perhaps it a comforting bowl of Pumpkin Soup or the pumpkin spice mixture which flavours everything in October, but mainly because in Europe they are in high-season, from September to mid-November. This is a good reason to take a closer look at this seasonal food, which botanically speaking is not a vegetable but in fact a berry.
Everything is edible!
In spirit of the zero-waste movement, every part of the pumpkin is edible. From the skin to the leaves and flowers. Most of us just like the soft orangey flesh in the middle, which is why the skin is often removed. If you prefer removing the skin, then try making Pumpkin skin chips. Cut them in chunks, sprinkle with paprika, sea salt and some chilly, drizzle with olive oil and bake in the oven at about 180 °C for about 30 minutes. Roasting the seeds and even pumpkin seed oil are delicious treats worth trying.
The healthy Powerhouse
That beautiful orange colour is a dead giveaway that pumpkins are FULL of great nutrients. They are packed with antioxidants, vitamins, and minerals, including potassium (good for fluid regulation), and fibre (good for gut health). Beta carotin (a vitamin A building block) that can help with anything from keeping your skin smooth to preventing cancer. Additional to the vitamin A (aids in eye health) it is also a good source of vitamin C, vitamin E and Iron making it a good immune system booster.
Flavour Varieties
Did you know there are hundreds of different types of pumpkins? Pumpkins come in a wide variety of colours shapes and sizes. There are more than 800 varieties of edible and ornamental pumpkins. Around 200 of them are edible and can provide more variety in terms of taste. Here is a brief overview of the five kitchen favourites:
Butternut squash: It is characterized by its pear shape, light-coloured skin, and orange flesh. It tastes delicious both raw and cooked.
Muscat pumpkin: With its intense flavour, this variety is an all-rounder that works well in soups, chutneys, and jams. It can be enjoyed raw or cooked.
Hokkaido: The nutty flavour goes wonderfully with soups or baked vegetables and because the skin cooks particularly quickly, you never need to peel it.
Spaghetti squash: When cooked, fibres form inside can be scraped out of the skin resulting in 'spaghetti'. It is a fantastic Low Carb alternative and can be served with your favourite sauce, for example tomato sauce.
Red & yellow Zenter: These giant pumpkins can weigh up to 20 kilos. This is why it's often sold in pieces at markets or in shops. The sweet flavour of this pumpkin is suitable for soups, casseroles, cakes or for preserving
Creative Recipes Ideas
The versatile preparation of pumpkins is not only visually appealing, but also a culinary sensation. A creamy pumpkin soup with carrots is quick and easy to make, Oven-baked pumpkin with gorgonzola & orange almost makes itself and a Thai curry with pumpkin & oyster mushrooms warms you up just as well as a tikka masala curry with pumpkin and lentils. Our health tip: low-carb salad with black cabbage and pumpkin.
Rich in fibre, and low in calories
Pumpkin is fibre-dense and low in calories, making them a great addition for anyone looking for a light but filling food that in addition boost their health. In fact, 250 grams of pumpkin contain more potassium than the same amount of bananas! And with only 50 calories, it is less dense. This is why this plant-based food is an ideal substitute for carbohydrates such as rice, bread, or potatoes
Choosing the right Pumpkin
Choose a pumpkin with very firm, uncracked skin that feels heavy for its size. Some of the best-tasting edible pumpkins are the funniest looking. As long as there are no soft spots or visible bruises, it's good to eat. Note that lighter pumpkins tend to be dried out, will rot faster, and won't give as much flesh to cook or bake with. And remember, pumpkins have a long shelf-life (around 2 months) so buy a few extra and keep them ready for later in the season.
Storing Pumpkin correctly
You'll want to keep it stored in a cool, dry place until you're ready to make some magic in the kitchen. Most pumpkins when kept in cool storage will keep up to 2 months uncut. You can place them in a wooden box making sure they do not touch or hang them in nets to help keep the pumpkins from rotting. We recommend keeping an eye on the storage temperature, if it is too high the taste can be affected and if too cold the pumpkins can rot.
Preparation
Start first by washing the outside of your pumpkins and drying thoroughly. Cut in half and using a spoon or ice cream scoop remove the seeds including the soft fibres- but these can be dried and used later.
The best Cooking Methods
Baking, boiling, steaming, preserving ... no matter which preparation method you choose, pumpkins are always a hit in terms of taste. However, when cooked in water, pumpkins absorb a relatively large amount of water and therefore taste less intense. For the best flavour, I recommend slathering the skin and flesh in a little oil and baking or roasting in the oven. Baking is done at a lower oven temperature for a slightly longer cook time (30-40 minutes), while roasting is done at a higher oven temperature for a shorter cooking time (15-20 minutes).
The best Preservation Methods
If you have too much pumpkin left over or want to save some for later, you can simply freeze cut pumpkin in an airtight container. Small pieces are easier to defrost later. Canning pumpkins is also relatively quick method of preserving pumpkin. Cut the pumpkin into pieces, boil with a little water until soft and puree. Sterilize preserving jars, fill them with the mixture and seal them airtight. You can then use them months later.